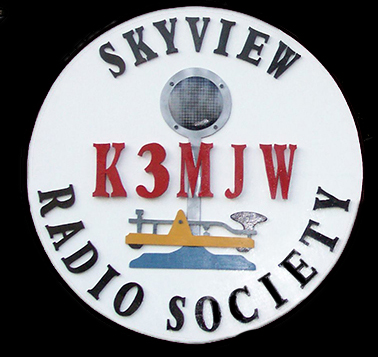 The Skyview Radio Society is an amateur radio club near New Kensington in Western Pennsylvania and is a registered 501 (C) (3) organization. Be sure to check out the latest news by viewing our Newsletter..
Non-Members in the Western PA area are welcome to participate as well. For membership info, please email us at: K3MJW@arrl.net, or fill in the form located below and send in your dues. You can now renew online by. going to the MEMBERS page.
-Business meetings on the first Tuesday of the month at 7:30pm.
-Weather group meetings on the second Tuesday of the month at 7:30pm.
-Social meeting on the third Tuesday of the monthat 7:30pm.
-Elmer night on the forth Tuesday of the month at 7:30pm.
Check into the Skyview two meter net on Thursday nights at 9:00pm to keep up on the latest happenings at Skyview Radio Society 146.640 (-) with a 131.8 pl tone.
You can visit the Skyview reflector at https://groups.io/g/K3MJW to stay aware of current happenings and upcoming activities and events. Sign up there to be added to the automatic email distribution. You can visit the Skyview FaceBook page at https://www.facebook.com/SkyviewRadioSociety to view pictures and stories of past activities and events. And you can check out our newsletter.